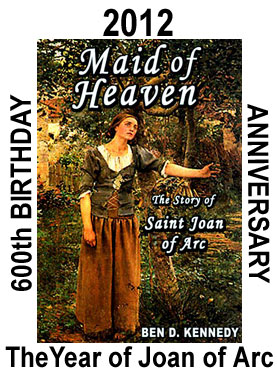 The recent 600th anniversary of Joan's birth produced a huge amount of news coverage all around the world and many people are now referring to 2012 as "The Year of Joan of Arc." Lest anyone need a reminder as to why
Joan of Arc
is so special and deserving of honor throughout this year I thought I would re-print a few of the many words written in praise of Joan over the years by some of the world's greatest writers and leaders:
"Whatever thing men call great, look for it in Joan of Arc, and there you will find it."
Mark Twain-19th Century American Writer
"Joan was a being so uplifted from the ordinary run of mankind that she finds no equal in a thousand years."
Winston Churchill-Legendary British Prime Minister in WWII
"She was the consummation and ideal of two noble human efforts towards perfection. The peasant's daughter was the Flower of Chivalry, brave, gentle, merciful, courteous, kind, and loyal....She was the most perfect daughter of her Church....her conscience, by frequent confession, was kept fair and pure as the lilies of Paradise."
Andrew Lang-19th Century Scottish Writer and Historian
"...next to the Christ, the highest spiritual being of whom we have any exact record upon this earth is the girl Jeanne"

Sir Arthur Conan Doyle-Famous Scottish author of Sherlock Holmes Fame.
"Jeanne d'Arc does not belong to France alone but also to all those whose thoughts are elevated enough to grasp the superior and beautiful among goodness."
Louis-Maurice Boutet de Monvel-19th Century French Painter