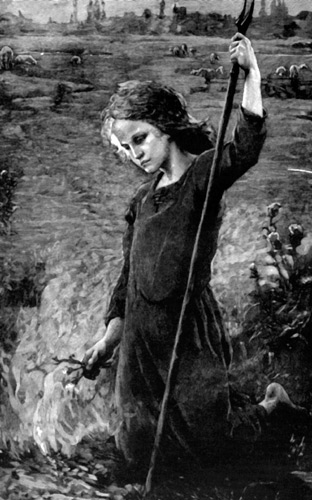 We are now only a month away from celebrating the 600th anniversary of Saint Joan of Arc's birth. To help you countdown a special clock was added to the birthday page at MaidOfHeaven.com that will reach zero at 12 midnight on January 5th in the town of Domremy where Joan was born. The clock currently shows a little more than 30 days to go which can be seen at the top of the page for
Joan of Arc's Birthday
Please bookmark this page and check back anytime to see how much time is left. This page also contains details about Joan's birth including quotes from the people who knew her the best and several new pictures of Joan, such as the one at the top of this article titled La Petite Jeannette, were recently added.
HOW ARE YOU GOING TO CELEBRATE JOAN'S 6OOTH BIRTHDAY!
As part of my own celebration I just recently finished writing a paper titled: Saint Joan of Arc: A Brilliantly Shining Light of God - The Significance of Joan of Arc's Birth on the Epiphany. I will post this paper here at this blog just after Christmas so please check back then.
Jesus+Maria