Joan of Arc
continues to be a great inspiration to women and will undoubtedly receive a great deal of coverage today on International Women's Day and throughout March during Women's History Month. From the beginning of the Women's movement Joan has been heralded as the epitome of a strong women and her likeness has been used countless times to promote women's rights such as the poster below promoting women's suffrage from the early 20th century.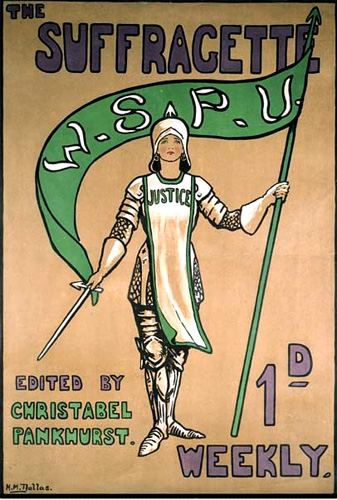 My hope this year is that during all the exposure that Joan receives people will really learn about the true qualities that Joan possessed that made her so strong and such a great women. One of my favorite quotes about Joan by Scottish author and historian Andrew Lang speaks volumes about who Joan really was as both a women and as a person:
"She was the consummation and ideal of two noble human efforts towards perfection. The peasant's daughter was the Flower of Chivalry, brave, gentle, merciful, courteous, kind, and loyal....She was the most perfect daughter of her Church....her conscience, by frequent confession, was kept fair and pure as the lilies of Paradise."